Happy Feet Live!
Interest in penguins, their lives and their homes (in this era of climate change) is at an all time high. Having lectured on the sex lives of penguins and all sorts of Antarctic topics since 1986, I will be returning again this February 22 – March 16 for the final cruise of the 2007 southern summer season. This cruise will be on the Canadian icebreaker, the Polar Star, the same ship I worked on in 2006. My employer is Elderhostal's Road Scholar program where I escort and entertain 25 folk on a ship of nearly 100 passengers.
We meet in Buenos Aires, then fly to Ushuaia at the south tip of the Americas to board the Polar Star.
After a day in Tierra el Fuego National Park amidst the wildflowers and beech forests, we sail down the Beagle Channel, round Cape Horn and spend two days crossing the albatross-infested Drake Passage. We visit the penguin chicks and seals at various islands off the Antarctic Peninsula and then break ice in the Weddell Sea where we saw Emperor Penguin and Killer "Dolphins" last year.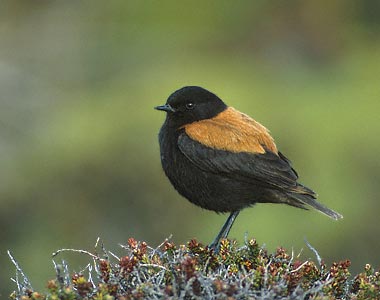 Last March we had a wrong-way black and rufous flycatcher known as an Austral Negrito land on our ship. Other than a stray Barn Swallow seen once in Antarctica, this was the second songbird ever found south of the Antarctic Convergence.
We kept it alive on bits of egg white and cheese for two weeks and released it successfully at dawn upon our return to Ushuaia.
South Georgia is as scenic as New Zealand's South Island and visited by less than 10% of Antarctic cruises. We will walk the Shackleton Route, walk amongst the huge Wandering Albatrosses at nesting islands, and visit the old whaling stations. Highlights will be the vast colonies of giant King Penguins with green bunch grass and snowy peaks behind. Then its off west to the British Falkland Islands for the Rockhopper Penguins and sheep.